Bydureon®, the first and only approved once-weekly hypoglycemic drug to be launched in China, hailing a new era for once-weekly therapy of type 2 diabetes
2018-05-25
May25,2018,Beijing,3Sbio Inc.(01530.HK) announced today that China's firstGlucagon-like peptide-1(GLP-1) receptor agonist weekly preparation Bydureon®(generic nameExenatideMicrosphere for injection) was launchedin China.This once-weekly sustained-release preparation can obtain prolonged and portent glycemic control and improve patient convenience, compliance and the overall outcome by providing steady-state levels of exenatide with microsphere technology, which heralds a new era for once-weekly therapy of type 2 diabetes.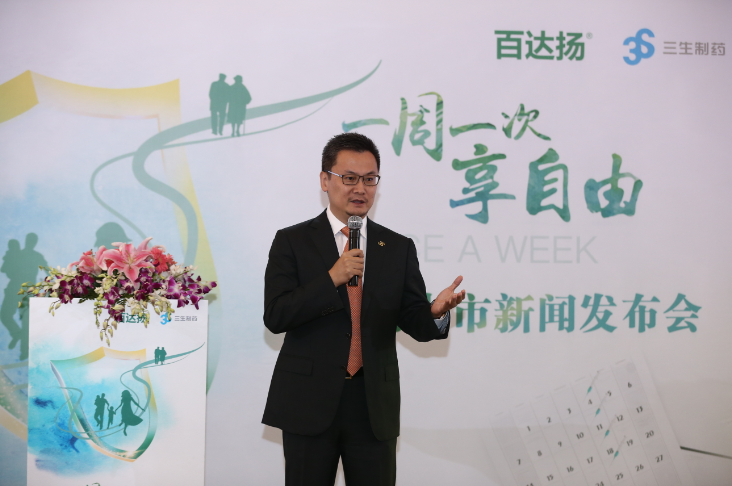 With the social and economic development and change in people's lifestyle, diabetes is increasingly becoming a global chronic disease that poses serious threats to human health, and the prevalence rate of which in China is rapidly rising throughout the world. The incidence of diabetes in our country is even soaring, the affected population has reached 114 million, indicating that China has become "the world's largest diabetes country". According to the data of epidemiological investigation of diabetes in China posted by JAMA in 2017, among patients receiving hypoglycaemic therapy, blood glucose compliance rate is only 49.2%. There are various factors account for poor blood glucose control, among which medication adherence decreases as a result of high-frequency administration is a critical one. Thus, effectively reducing dosage frequency and mitigating treatment burden of patients has become a major concern nowadays for clinical workers to solve the problem of low blood glucose compliance rate.
Improve glycemic control and fully benefit type 2 diabetes
People's Hospital of Peking University Professor Ji Linong, president of the International Diabetes Federation Western Pacific Region Congress (IDF-WPR)and chief researcher of Asia clinical research onExenatideMicrosphere phase III, said: "For patients with type-2 diabetes in China,ourrelevantclinical trials showed that once-weekly administration of Exenatide Microsphere, known as glucagon-like peptide-1 (GLP-1) receptor agonist, for 26 weeks resulted in glycosylated hemoglobin (HbA1c) reduction of 1.43% and fasting plasma glucose(FPG)reduction of 40.57mg/dl as well as weight loss of 1.63kg. In addition, Exenatide Microspheresareassociated with a lower incidence of gastrointestinal side effects , lower risk of hypoglycemia and better glycemic control compared with China launched short-acting Exenatide agents,. Meanwhile Once-weekly injections bring great convenience for patients. Above-mentioned clinical advantages will provide an overall improvement of chronic disease management for type 2 diabetes. Besides,GLP-1 receptor agonist weekly preparationmaintains leadership in the fast growing market of medications prescribed for type 2 diabetes in the US and Europe. "
Administered once-weekly, thus enhancing compliance
Chinese PLA General Hospital Professor Mu Yiming, chairman of the Chinese Society of Endocrinology, said: "Though there have been a number of medications available for diabetes, poor glycemic control of some patients does exist, which is closely linked with medication adherence. Numerous studies have demonstrated a decrease in medication adherence as dosing frequency increases. Traditional diabetic therapy, switching from oral administration to intravenous injection and from three-time daily to once daily, but poor compliance of diabetes remains a severe challenge. Distinguished from traditional ones, Exenatide Microsphere for injection is the first hypoglycemic drug in China to be administered once-weekly. From China Guideline for Type 2 Diabetes, this type of drug is a good alternative in combination therapy when single oral treatments do not work well. Compared to daily injection of basal insulins, which is also mentioned in the Guideline, it can reduce the frequency of injection for 313 times a year, which can greatly improve patient convenience and treatment experience, thus effectively solving the problem of poor blood glucose compliance rate and bringing greater freedom to the lifestyle of diabetics."
Xiao Weihong, chief operating officer and general manager of marketing department of 3S Pharmaceutical Group, said: "As a company devoted to developing innovative drugs to serve the patients, 3S Pharmaceutical Group is committed to promoting diabetes treatment in China relying on its own comprehensive resources and technical strength. Exenatide Microspheres for injection is a breakthrough for the strategic cooperation and innovation of 3SBio and AstraZeneca in the field of diabetes and shows epoch-making significance for pharmaceutical industry in China, which not only brings an extended treatment option for diabetics but also facilitates self-management of chronic diseases. In the future, 3S Pharmaceutical Group will pay closer attention to diabetes treatment and cooperate with strategic partners to provide patients with more advanced medical products and healthcare services and promote the progress of medical industry in China, so that more and more patients can benefit from it."
About Bydureon®
Bydureon®(generic nameExenatideMicrospheres for injection) is the first once-weekly hypoglycemic drug launched in China, which is used to improve glycemic control of type 2 diabetes and applicable to the patients not achieving satisfied level of glycemic control in case of taking metformin or sulfonylureas alone and taking metformin and sulfonylureas together. The medicine makesglucagon-like peptide-1(GLP-1) receptor agonist exenatide,slow release in the body to play long-term hypoglycemic effect by themicrosphere technique, it can be administered once-weekly, 2 mg each time.The patient can be dosed at any time of the day, regardless of meal or not.Bydureon® have been proved by Asia clinical research on Exenatide Microsphere phase III to provide HbA1c reduction of 1.43% and FPG reduction of 2.25mmol/L as well as weight loss of 1.63kg with once-week administration for 26 weeks. The launch of Bydureon®will provide better choice of medicines for diabetics in China.
About 3S Pharmaceutical Group
3S Pharmaceutical Group is a leading bio-pharmaceutical company integrating R&D, production and sales, with a focus on improving the life quality of patients with high-quality medicines to benefit human health. At present, the Group owns more than 70 national invention patents and has launched more than 30 kinds of products into the market, covering several treatment fields, among others, cancer, autoimmune, kidney disease, metabolism and dermatology. The Group owns 4 R&D centers of the National Engineering Research Center of Antibody Medicine and dual platforms for biopharmaceutical and chemical medicine. There are 31 kinds of products under R&D, 16 kinds of them are under R&D as the national first-class new drugs. The Group also owns 5 production bases complying with the updated GMP standards. In the future,3S Pharmaceutical Group will continue to uphold the concept of "Care for Life, Cherish Life, Create Life" to create a world's leading bio-pharmaceutical company in China.
Media contact
Ren Yuanyuan
Share