3SBio announces 2022 interim results, with net profit attributable to owners of the parents continuing to grow despite COVID-19 and cash hitting new record high
2022-08-24
August 24, 2022, Hong Kong, China --- Chinese leading biopharmaceutical company 3SBio(01530.HK) today released its 2022 interim results. Despite pressure from inside and outside the industry, and the COVID-19 impact in China, revenue in the first half of 2022 reached RMB 3.09 billion, almost unchanged on a yearly basis. Net profit attributable to owners of the parents rose by 6.2% year on year to RMB 960 million. Earnings per share was HKD 0.46, up 11.4% on a yearly basis. The Company's operating activities generated a net cash inflow of RMB 1.07 billion, representing a year-on-year rise of 31.9%. Cash and bank balances and bank financial products hit a new record high at RMB 6.51 billion.
Ø Core products maintained stable performance
In the first half, 3SBio's core products (TPIAO, EPIAO, Yisaipu, Cipterbin, and Mandi) posted combined sales of RMB 2.78 billion.
Sales of TPIAO rose 3.5% year on year to RMB 1.58 billion. It continued to be a leader for the treatment of thrombocytopenia in China's mainland, with a market share of 66.0% in terms of sales value.
By the first half, TPIAO had been listed in more than 4,000 hospitals, and its application in the oncology field was expanded from chemotherapy-induced thrombocytopenia (CIT) to cancer therapy induced thrombocytopenia (CTIT), further expanding patient coverage. In May, the phase III clinical trial of TPIAO in the pediatric ITP indication achieved the pre-defined primary endpoint, and the Group is preparing the supplemental NDA. In addition, a phase II clinical trial for TPIAO in patients with chronic hepatic dysfunction at the risk of thrombocytopenia has been completed, and the indication is expected to be approved and launched in 2025.
Sales of EPIAO and SEPO totaled RMB 530 million, almost unchanged from last year. With these two products, the Company continued to be the premier leader in the Chinese mainland rhEPO market, with the total share rising to 44.1% in the first half. In the future, the Company believes that its rhEPO products will embrace more growth in three areas. First, China has 3.5 million patients with end-stage chronic kidney disease, and more than 800,000 patients are on dialysis. But only less than 40% of those with anemia received treatment. With the improvement of anemia treatment standards, demand for medication will further increase. Second, there are more than 4 million cancer patients receiving chemotherapy in China, but only 10% of those with anemia received treatment. In 2019, the chemotherapy-induced anemia (CIA) indication was included in the National Reimbursement Drug List (NRDL), and hospital listings have been improved. Also, the Clinical Guidelines for Cancer-Related Anemia (2022 edition) have added 36,000 IU dosage as Class I recommendation for the treatment of myelodysplastic syndromes (MDS), which will help improve the penetration rate of the products in the non-nephrology field. Third, the implementation of the National Essential Drug List has been boosting willingness of primary medical institutions to use sufficient doses, and EPIAO and SEPO meet all three specifications covered by the National Essential Drug List.
Sales of Yisaipu totaled RMB 230 million. As the first-to-market TNF-α inhibitor in China's mainland, Yisaipu saw improved commercialization procedures and better patient acquisition and management under a patient-centric approach. Meanwhile, the Company explored new specifications for Yisaipu as the injection set was launched in March, and pre-filled injection is expected to be launched by the end of the year. Thanks to collaboration with the TCM rheumatism system, Yisaipu became the preferred biological drug in combination with traditional Chinese medicine as competitors had yet to enter this segment. Yisaipu saw continued penetration into lower-tier regions as the Company actively improved drug access, supported the program to help patients with ankylosing spondylitis, and bolstered primary care capabilities to consolidate first-mover advantages.
Sales of Cipterbin soared 112% to approximately RMB 68 million. As a national major innovative drug under High-Tech Research and Development Plan (Plan 863) and with the priority review designation, Cipterbin was approved and launched in China in 2020 and included in the NRDL in the same year, ending the dominance of imported products in the market of anti-HER2 monoclonal antibodies. With stronger antibody-dependent cellular cytotoxicity (ADCC) effect and lower immunogenicity risk, it has been well recognized by clinicians. In the first half of this year, the "Guidelines of CSCO — Breast Cancer (2022 edition)" listed Cipterbin as a recommended first-line treatment for patients with HER2-positive advanced breast cancer. Under this revised recommendation, the number of Cipterbin-applicable patients increase significantly. The number of medical institutions covered rose from about 100 to more than 1,000, and the average monthly number of patients receiving Cipterbin has jumped several times year on year. The per capita duration of therapy (DOT) has also been significantly extended.
Ø Hair health business posted rapid growth
In the first half of 2022, sales of Mandi reached RMB 370 million, up 42% year on year, maintaining fast growth rate for the seventh consecutive year. According to the Chinese Pharmaceutical Association (CPA), Mandi had a dominant market share of 71.9% in China's mainland in 2022, continuing to rise from the end of 2021.
In the first half, revenue of Mandi from medical institutions posted slightly slower year-on-year growth of 7% due to the COVID-19 impact. In the second half, the Company will continue to work closely with Yonghe Hair Transplant and other private chain medical institutions to play the role of professional academic channels, and guide patients to e-commerce platforms and pharmacies. Revenue of Mandi from retail pharmacies recorded year-on-year growth of more than 80%. The sales channels of Mandi cover nearly 90,000 retail pharmacies, including nearly 90% of top 100 chain pharmacy headquarters. The brand flagship store has obtained the Internet pharmacy qualification. Revenue of Mandi from e-commerce posted year-on-year growth of 39% as over 20 million people were reached online, and the number of online customers exceeded 2 million. The customer conversion rate and the proportion of female users continued to increase, demonstrating excellent operational results.
Ø CDMO business kept strong momentum
In the first half, the Company's revenue from CDMO business rose 38.1% year on year to approximately RMB 55 million. Revenue from overseas subsidiary Sirton increased 32%, and revenue from domestic subsidiaries jumped 67%. The Company has a total of more than 20 ongoing CDMO projects. As the core CDMO subsidiary, Zhangjiang-based Shengguo Pharmaceutical had 62 employees stay onsite for 75 days to achieve 100% guaranteed projects delivery, winning an excellent reputation in the industry. The CDMO business has order value of over RMB 100 million, representing a substantial increase over the same period last year. The NDA of an antibody drug candidate has been accepted, outpacing most peers and reflecting 3SBio's CDMO business has the capacities to serve the whole drug R&D processes.
3SBio is one of the first Chinese pharmaceutical companies engaged in R&D and production of biologic drugs. The Company has rich experience in R&D and manufacturing of biologic drugs, with competitive advantages in CDMO, especially in the commercialization process. Since the establishment of an independent platform, CDMO business has covered the entire processes from cell line development, registration, clinical research, and production. The six Chinese and overseas sites collaborate to not only provide flexible production volumes, but also fully cover antibodies, proteins, peptide nucleic acid drugs, cell therapy and other biologic drugs. The team has a proven track record in more than 50 internal and external IND projects. The average period from DNA to IND was only 15 months, and the failure rate of IND application was zero. The team can ensure 24/7 rapid response, and respond to customer needs within one day. All these are the drivers behind the sustainable growth of CDMO business.
The Company's CDMO business currently consists of Desen Biotech Co Ltd, Shanghai Shengguo Pharmaceutical Development Co Ltd, Guangdong Sunshine Pharmaceutical Co Ltd and Sirton in Italy. The Company has 6 production sites in Shenyang (2), Shanghai, Guangdong, Suzhou, and Italy. Desen's first-phase 76,000-liter production capacity is expected to be alive in 2022, and the second phase of the Suzhou site started construction in August and is set to be put into production in 2025.
Ø R&D achieved key progress
In the first half of 2022, 3SBio achieved key progress in multiple research and development projects, with a total R&D expenditure of RMB 290 million. As of June 30, there were 33 product candidates within the active pipeline, with 26 being developed as innovative drugs in China's mainland. Among them, there were 11 product candidates in oncology, 13 product candidates that target auto-immune diseases, 9 product candidates in nephrology; and 1 product candidate in dermatology.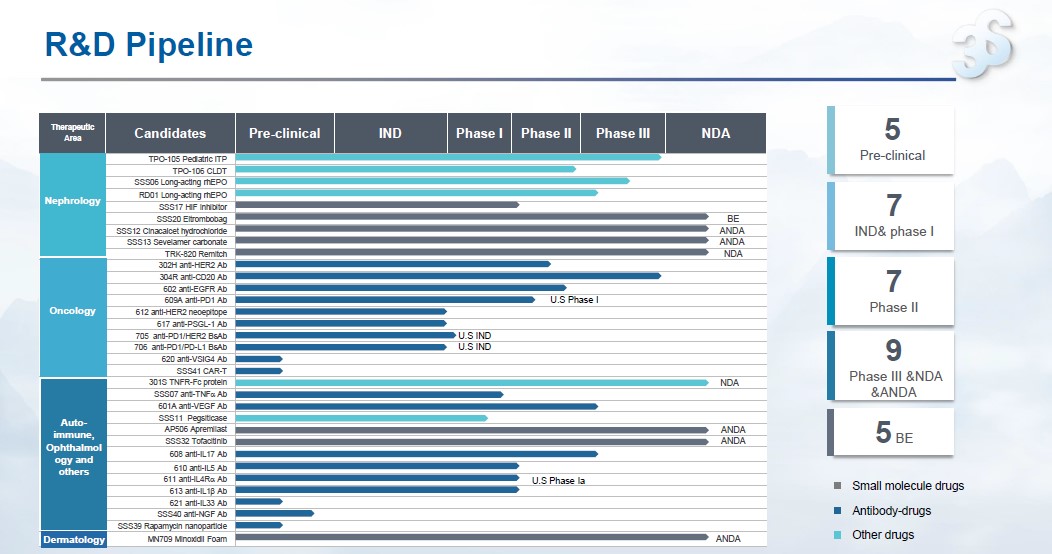 3SBio's R&D pipeline as of 2022 H1
Key R&D programs in H1:
Nephrology:
l The phase III clinical trial of TPO-105 (pediatric ITP) was completed, and the NDA is under preparation
l The phase Ib/II clinical trial of TPO-106 (chronic hepatic dysfunction) was completed, and an IND application for phase III trial is under preparation
l The phase III clinical trial of SSS06 long-acting EPO for renal anemia is ongoing, and an IND application for cancer-related anemia is under preparation
l The phase III clinical trial protocol for RD01 long-acting EPO in CKD is under preparation, and an IND application for perioperative anemia in orthopedic surgery will be submitted soon
l The phase Ib clinical trial of HIF inhibitor SSS17 was completed, and the phase II trial is under preparation
l Remitch (nalfuraphine hydrochloride orally disintegrating tablets) has passed the CDE on-site verification, and an IND application for liver disease is set to submitted soon
Auto-immune diseases:
l The NDA of anti-TNF α pre-filled aqueous injection solution of 301S was accepted for review by the CDE
l The phase III trial of anti-VEGF mAb (601A) was approved by the CDE
l The phase II trial of anti-IL17A mAb (608) has met the primary end-point. The phase III trial is expected to initiate soon
l The patient enrollment of phase II trial of anti-IL5 mAb (610) is ongoing, and a combination design study for phase II/III clinical trials will be initiated
l The patient enrollment of phase Ib trial in China of anti-IL4Rα mAb (611) in AD was completed and the IND application for adaptive design for phase II/III trials in CRSwNP has been submitted
l The first patient-in has been completed for the phase Ib/II trial of anti-IL1 β mAb (613) in patients with acute gouty arthritis
Hair care:
l The NDA of minoxidil foam formulation (MN709) has been accepted by the CDE, pending on-site verification
Oncology:
l The IND approval of anti-PSGL-1 mAb (617) was obtained
l The first patient-in was completed in the phase I trial of anti-PD1/HER2 BsAb (705)
l The pre-phase I trial preparation has been completed for anti-PD1/PD-L1 BsAb (706)
The phase II trial of the Company's anti-IL-17A monoclonal antibody (608) has recently met the primary endpoint for the treatment of patients with moderate to severe plaque psoriasis, showing a potentially superior efficacy over its peers. In terms of efficacy, in the 12-week induction period, 80.6%, 89.3%, and 91.4% of the subjects in the three dose groups achieved the Psoriasis Area and Severity Index (PASI) 90 response and specific Physicians Global Assessment (s-PGA) 0/1, respectively. Approximately half of the patients achieved PASI 100 (clear skin) at Week 12, compared with no response in the placebo group (0). In terms of production, 608 has higher cell expression, which means lower production costs in commercialization. It is expected to provide a potent, cost-effective, and accessible option for millions of psoriasis patients in China.
In the first half, 3SBio reached two important license-out partnerships. In January, the Company entered into a licensing agreement with Syncromune Inc, a bio-pharmaceutical company headquartered in the U.S., to develop and commercialize the Company's anti-programmed cell death protein 1 (PD1) mAb (609A) for use with Syncrovax™ immuno-oncology combination therapy worldwide. As part of the partnership, the Company received an upfront payment and may receive future regulatory and sales milestone payments and other incentives. In June, the Company signed a licensing cooperation agreement with Chengdu Kelingyuan Pharmaceutical Technology Co Ltd to grant the worldwide development and commercialization rights of Cipterbin antibody sequence for antibody-drug conjugate (ADC) to Kelingyuan. According to the agreement, the Company may receive up to RMB 1.025 billion in upfront payment, R&D milestone payments and sales milestone payments, as well as sales-based royalty from Kelingyuan after the future product launch.
The Company's license-in projects have also been proceeding smoothly. The China IND of anti-PSGL-1 mAb (617), developed by the Company in collaboration with Verseau Therapeutic Inc, was obtained in March, and the preparation for the phase I trial is planned to be completed in the second half of the year. The Company has selected a trispecific antibody (715, MSLN-CD3-HAS) from Switzerland-based Numab as the first licensed-in product, which is the world's second investigational MSLN-targeting CD3 T cell-engager and the potential first-in-class bivalent MSLN-targeting CD3 T cell engager.
In the hair health sector, 3SBio and Cosmo Pharmaceuticals in July signed a license agreement. 3SBio will receive the exclusive right to develop and commercialize clascoterone, the world's first marketed topical androgen receptor inhibitor to treat acne, in Greater China. Clascoterone is the first acne treatment with a new mechanism of action approved by the U.S. FDA in nearly 40 years and is the most prescribed topical acne drug in the U.S. The cooperation between 3SBio and Cosmo on clascoterone may bring a new option for the treatment of acne and hair loss in hundreds of millions of patients in China, showing great market potential in the Chinese market.
Dr. Jing LOU, Chairman and CEO of 3SBio, commented: "In the first half of 2022, with the recurrence of the COVID-19 pandemic in China's mainland, various regions have adopted pandemic prevention and control and quarantine policies, which have in turn affected the R&D, production, and commercialization in the pharmaceutical industry to some extent. The Company has taken a series of safeguard measures in a timely manner to ensure product R&D and manufacturing as well as the normal progress and delivery of our CDMO projects to minimize the COVID-19 impact. In the second half of 2022, we believe that independent innovation will remain the priority in the pharmaceutical industry. The Company aim to accelerate growth across business lines, focus on transforming healthcare innovation, consolidate its leadership in hair care, and further bolster CDMO business in a bid to achieve performance growth and reward shareholders in a sustainable way."
Media contact
Ren Yuanyuan
Share